The Magnificent Sheikh Zayed Mosque: A Gem of Abu Dhabi
Sheikh Zayed Mosque is an absolute must-visit attraction in Abu Dhabi, UAE. It is easily accessible by public bus or taxi from the city center, with a taxi fare of 35 AED. If you're coming from Dubai, you can take a bus from the main station for 20 AED, and the journey takes approximately 2 hours. On the bus, there are designated seats for men, women with children, and families.
This magnificent mosque is one of the largest in the world and its sheer size is truly awe-inspiring. Constructed using various types of marble, adorned with countless beautifully decorated columns, towers, and domes, the mosque can accommodate up to 40,000 people. It is open to people of all nationalities and religions.
The opening hours of Sheikh Zayed Mosque are from 9 am to 10 pm, except on Fridays when it opens at 2 pm and closes at 10 pm. As you step inside, you'll be captivated by the grandeur of the marble floor, which is believed to be the largest mosaic in the world. The courtyard itself, with its 1000 white columns and 80 domes, is breathtaking, but the true marvel awaits inside.
The mosque was completed in 2007, and its main prayer hall features the world's largest mosque dome, measuring 33 meters in diameter and reaching a height of 85 meters. Inside, you'll also find the third largest chandelier in the world, made of gold and millions of Swarovski crystals. The mosque's carpet, a stunning masterpiece, was handcrafted by thousands of Iranian artisans and holds the title of being the largest and most expensive carpet in the world, spanning an impressive 5,600 square meters.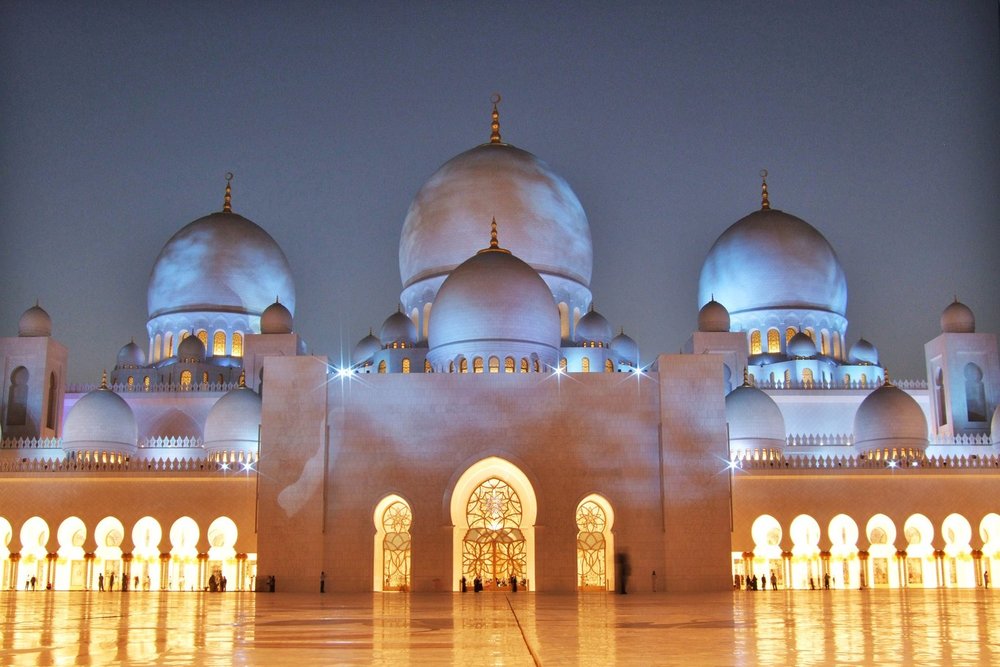 Adorning the walls are beautiful designs and intricate geometric patterns, containing verses from the Quran. The entire complex is a testament to grandeur and opulence. Despite its distinct architectural style, visiting the mosque evokes a similar sense of awe as visiting iconic landmarks like the Vatican or the Taj Mahal.
Make sure to add Sheikh Zayed Mosque to your itinerary when you're in Abu Dhabi. Its breathtaking beauty and remarkable craftsmanship will leave a lasting impression on you.
The mosque inside
Sheikh Zayed Mosque